Monster Truck Madness 2 was a video game released by Microsoft Game Studios in 1998 as the sequel to the 1996 game Monster Truck Madness. The game had a smoother graphical appearance over the first one, and focused solely on rumbles and off road tracks as opposed to real life racing tracks like the first one as well as the option to change weather to vary the tracks, and a helicopter recovery option.
List of Available Trucks: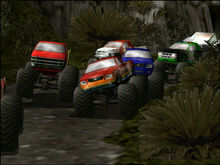 Chuck's Car (was supposed to be accessed by typing "CHUCK CAR" in chat, but was never unlocked)
The Patriot (a truck featured in the CD Manual but not available in game)
List of Available Tracks
Farm Road 29
The Heights
The Graveyard
Scrapyard Run
Crazy '98
The Excavation
Breakneck Ridge
Sidewinder Canyon (also featured the secret to unlock the track Torture Pit)
Voodoo Island
Tinhorn Junction
Tumbleweed Flats
Arena Rumble
Pyramid Rumble
Hypercube Rumble
Modding Community
From after the game's release to today, Monster Truck Madness 2 has had a massive modding community. With members making replica trucks and tracks, or extravagant custom tracks and bizarre custom trucks.
Ad blocker interference detected!
Wikia is a free-to-use site that makes money from advertising. We have a modified experience for viewers using ad blockers

Wikia is not accessible if you've made further modifications. Remove the custom ad blocker rule(s) and the page will load as expected.