Monster Magic

Monster Magic being driven by Morgan Kane in 2011

Owner

Steve Simms

Driver

Bryan Wright

Body Style

Dodge

Engine

540ci Merlin

Transmission

Coan 2-Speed

Tires

66" Terra

Debut

2011

Discontinuation

2012
Monster Magic debuted on December 10, 2011 at the Minneapolis Metrodome with driver Morgan Kane as the new teammate to Stone Crusher. However, Bryan Wright would replace Kane as Kane went on to drive the second Stone Crusher. Monster Magic only competed during the 2012 season before it was replaced by Hooked in 2013. Monster Magic was the successor to Mopar Magic.
Histroy
Monster Magic debuted with Morgan Kane behind the wheel as the new teammate to Stone Crusher. The same night, Morgan surprisingly beat childhood friend Ryan Anderson in Son-Uva Digger at the Minneapolis Metrodome. This was Kane's last performance in Monster Magic, as he would later go on to drive the second Stone Crusher. The new driver of Monster Magic was Bryan Wright, who drove it throughout 2012. The truck was retired in 2012, as Steve Sims's (owner of Stone Crusher and Monster Magic) son (Steven Sims) would begin touring his truck, Hooked, with Stone Crusher in 2013. Bryan stayed with the team, sharing the driving duties with Steven Simms in 2013. Wright would eventually leave to drive FELD-owned Backwards Bob in 2015.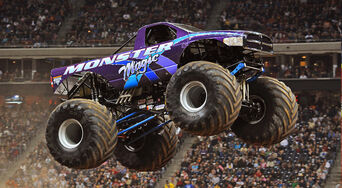 Ad blocker interference detected!
Wikia is a free-to-use site that makes money from advertising. We have a modified experience for viewers using ad blockers

Wikia is not accessible if you've made further modifications. Remove the custom ad blocker rule(s) and the page will load as expected.