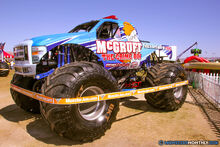 McGruff is a Ford Superduty Police monster truck driven by Rod Wood out of Arizona. The truck has been around for over 10 years and is named after the crime dog of the same name. Rod traditionally makes a stop during the Phoenix Monster Jam. The sister truck is called El Perro Loco.
Gallery
Ad blocker interference detected!
Wikia is a free-to-use site that makes money from advertising. We have a modified experience for viewers using ad blockers

Wikia is not accessible if you've made further modifications. Remove the custom ad blocker rule(s) and the page will load as expected.