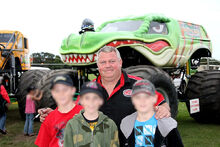 Kreg Christensen is a monster truck driver currently driving Dragon Slayer. He has driven trucks like Max-D, Iron Outlaw, Wicked and Donkey Kong.
He drove his own truck, Dragon Slayer until the truck's retirement. In 2008, he drove 2Xtreme Racing's Iron Outlaw, even getting an invite to the Monster Jam World Finals 9. Then in 2009, he got hired by Tom Meents, the owner of Max-D, to fill in for Neil Elliott. For 2010 he drove Donkey Kong up to it's retirement on the same year. He went back to driving Maximum Destruction in 2011 as a full time driver.
During the time of driving for Max-D, he also had other things going on in Australia, in which he was driving monster trucks over there. In 2014, he left Monster Jam to drive full time in Australia which one of those reasons were to drive the Wicked monster truck. Morgan Kane replaced him in driving Max-D.
In 2017, he resurrected Dragon Slayer and continues to drive the truck to this day, though he still drives Wicked in Australia.