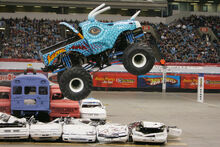 Jurassic Attack was a custom monster truck from Don Frankish Motorsports. The truck is best known for when Crusader driver Linsey Weenk got started by driving Jurassic Attack. The chassis is currently owned by Trent Hickie of Melville Saskatchewan Canada and campaigned on a part time basis as Maniac under an agreement with Don Frankish. Frankish, in an interview, said that "there is indeed plans to bring back Jurassic Attack in the future, but it is currently unknown when". This truck was also featured in the movie Rat Race.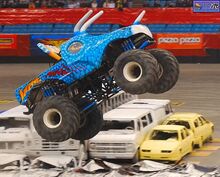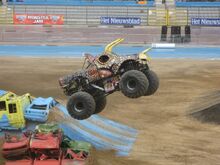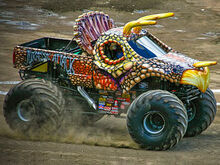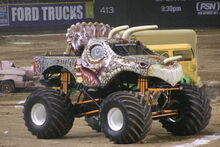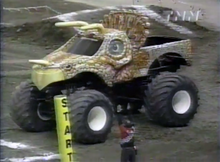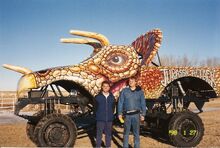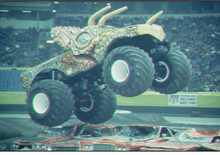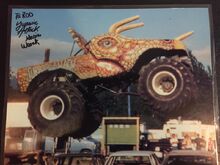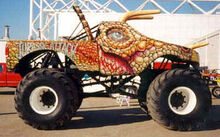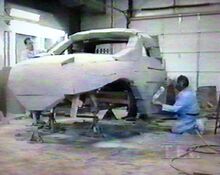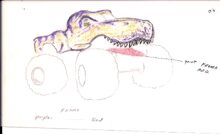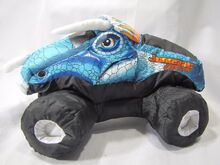 History
1997- The truck is conceived as a T-Rex
1998 - The truck debuts with a leafspring chassis.
2000 - A full tube chassis is built and Linsey becomes the full time driver.
2006 - Linsey goes to 2Xtreme Racing, his brother Nathan takes over as driver.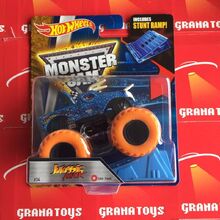 2007 - Kristy Edge takes over as driver, and a new scheme is created.
2007 - A Jurassic Attack body is sent over seas on a Live Nation chassis, and Don Frankish wins freestyle in Cardiff.
2010 - Gary Schott Jr. is the final full time driver of Jurassic Attack
2012 - A ride truck is built, being the only Jurassic Attack truck left.
2013 - The chassis is sold, and becomes the new Maniac, while Don keeps the name, for future use.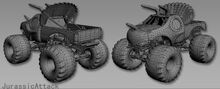 Ad blocker interference detected!
Wikia is a free-to-use site that makes money from advertising. We have a modified experience for viewers using ad blockers

Wikia is not accessible if you've made further modifications. Remove the custom ad blocker rule(s) and the page will load as expected.