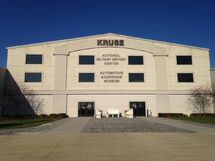 The International Monster Truck Hall of Fame is a museum out of Auburn, Indiana created by Jeff Cook in 2011 to honor everything monster trucks. Since 2011 a few drivers are selected to be inducted into the hall of fame.
2011 Class
Bob Chandler- Bigfoot 4X4
Fred Shafer- Bear Foot (Scott Hess accepted on his behalf)
2012 Class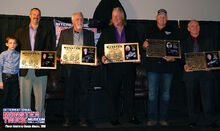 Jim Kramer- Bigfoot 4X4
Mike Welch- Super Pete & Monster Mash
George Carpenter- MTRA Founding Member (his son Robert accepted on his behalf, as George passed away a few months prior to the ceremony)
Pablo Huffaker- Just Show N Off & Grave Digger
Dennis Anderson- Grave Digger
2013 Class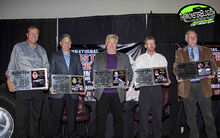 Gary Porter- Carolina Crusher & Grave Digger
Dan Patrick- Samson and Patrick Enterprises
Scott Stephens- King Krunch & Texas Off Road
Army Armstrong- Announcer during the TNT and PENDA era.
2014 Class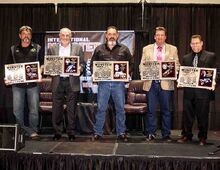 Jon Breen- Mad Dog and Breen Racing
Michael Vaters- Black Stallion and Vaters Motorsports
Andy Brass- Bigfoot 4X4
Kirk Dabney- Blue Thunder, Monster Patrol, Overkill, etc.
2015 Class
Gene Patterson- Bigfoot, Snake Bite, Stomper, etc.
Billy Joe Miles- TNT Motorsports
2016 Class
Bob George- United States Hot Rod Association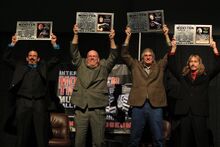 Charlie Pauken- Excaliber, Grave Digger
Jerry Richmond- Terminator, Lethal Weapon, and Weapon 1
Ad blocker interference detected!
Wikia is a free-to-use site that makes money from advertising. We have a modified experience for viewers using ad blockers

Wikia is not accessible if you've made further modifications. Remove the custom ad blocker rule(s) and the page will load as expected.