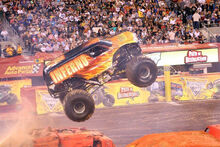 Inferno was a monster truck created by FELD Motorsports that ran from 2002-2006 and a one off event in East Rutherford 2012.
The truck was essentially WCW Nitro Machine, just with any WCW remnants removed and the name changed. T
History
2002 - Inferno, the old WCW Nitro Machine, debuts with Kathy Winston behind the wheel.
2004 - Inferno is shown off at the Monster Jam World Finals 5 with an unfinished paint scheme
2005- This unfinished body is run on the truck, with added red fire
2005- A new ford body debuts in Europe.
2006 - The last two shows for the first Inferno are ran in Arnhem Holland, using an Altered Hot Wheels (European) body
2006 - Meanwhile, Hot Wheels and Pastrana 199 run competitions in Europe on the Inferno chassis.
2012 - An Escalade version of Inferno runs for an encore in East Rutherford with Frank Krmel driving.
2013 to Present- Inferno is put on hold. The truck is still shown and used in Yearbooks and merchandise, implying it still has a possibility of returning. For what and when, is unknown.
Trivia
The original Inferno had to be called Flashfire for the toy release in 2003. It also had a very rare release under the original name. The new one in 2013 went by Inferno.
Gallery