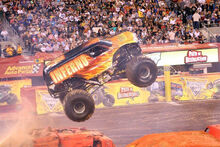 Inferno was a monster truck created by FELD Motorsports that ran from 2002-2006 and a one off event in East Rutherford 2012.
The truck was essentially WCW Nitro Machine, just with any WCW remnants removed and the name changed.
History
2002 - Inferno, the old WCW Nitro Machine, debuts with Kathy Winston behind the wheel.
2004 - Inferno gets a new orange scheme.
2006 - The last two shows for the first Inferno are ran in Arnhem Holland.
2006 - Meanwhile, Hot Wheels and Pastrana 199 run competitions in Europe on the Inferno chassis.
2012 - An Escalade version of Inferno runs for an encore in East Rutherford with Frank Krmel driving.
Trivia
The original Inferno had to be called Flashfire for the toy release in 2003. It also had a very rare release under the original name. The new one in 2013 went by Inferno.
Gallery
Ad blocker interference detected!
Wikia is a free-to-use site that makes money from advertising. We have a modified experience for viewers using ad blockers

Wikia is not accessible if you've made further modifications. Remove the custom ad blocker rule(s) and the page will load as expected.