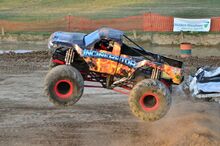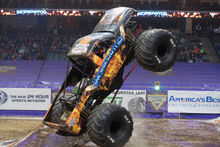 Incinerator is a Chevy Silverado truck driven by Ryan Rice out of Indiana. The truck is a Willman based chassis (similar to Maximum Destruction) built by Rob French and began life as Sniper before becoming Incinerator. In 2011 Rice debuted a new scheme for the truck which is being used to this day. French's truck was renamed Incinerator after being sold due to a massive fire that Sniper caught during an event. In 2015, Ryan bought Desperado and he converted it to the second Incinerator.
In 2016, the first Incinerator truck was converted to Power Surge. Incinerator 2 still runs today.
Gallery
Ad blocker interference detected!
Wikia is a free-to-use site that makes money from advertising. We have a modified experience for viewers using ad blockers

Wikia is not accessible if you've made further modifications. Remove the custom ad blocker rule(s) and the page will load as expected.