Incinerator

Incinerator circa 2017

Owner

Ryan Rice

Driver

Ryan Rice

Body Style

Chevy Silverado

Engine

540ci Merlin

Transmission

Powerglide

Tires

BKT

Debut

2003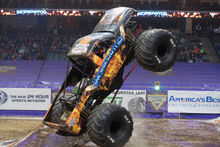 Incinerator was a Chevy Silverado truck driven by Ryan Rice out of Indiana. The first truck was a Willman based chassis (similar to Maximum Destruction) built by Rob French and began life as Sniper before becoming Incinerator.
History
Late 2002- Rob French announces a contest for the renaming of Sniper. 15 year old David Genest was chosen with his name, Incinerator
2003- The New body style debuts. The truck is sold to Judd Holt in late 2003
2005- A new black body style debuts in 2005
2011 - The truck is sold to Ryan Rice. He debuted a new scheme for the truck which is being used to this day.
2015 - Ryan bought Desperado and he converted it to the second Incinerator.
2016 - the first Incinerator truck was converted to Power Surge. Incinerator 2 still runs today.
2018 - The second Incinerator was sold and it became the new Screamin' Demon.
Gallery