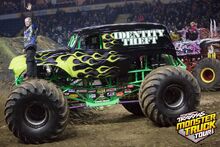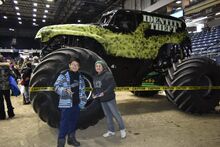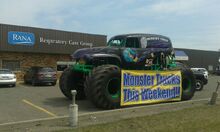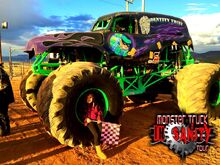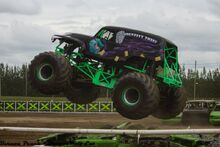 Identity Theft is a Chevy Panel Van monster truck from Straight Up Racing. The truck is a parody of Grave Digger, hence the name Identity Theft. The truck debuted in 2014 and it also ran as Jail Break in 2016.
Bill Payne has strongly emphasized that the truck is solely a parody, and not a knock off, of Grave Digger: however, this didn't prevent controversy. As the design was being constructed, Payne became concerned that the truck was actually going to look too similar to Grave Digger, possibly triggering lawsuits. He contacted a Keith Stellar from Monster Jam and sent him photos of the truck performing test runs. Sure enough, Stellar informed him that the truck was too similar and required changes to the truck. Because it took a while for Payne and Stellar to reach an agreement, they decided to run the truck for the first few shows without the body at all, as Rage in a Cage, until an agreement was made to remove the green vapors and flames on the hood. While Payne's other trucks, like California Kid and Rockstar took a year to build due to their designs made from scratch, Identity Theft took 40 days to built.
In response to the controversy surrounding the truck, Payne decided to have a bit more fun by putting out a fake announcement that the truck would be converted to a new truck called "Fohawk Warrior". This ended up boosting the team's Facebook account by 1,000 likes. Payne announced later it was a joke and would actually be Jail Break. They've also teased about a truck called "Big Fraud" being considered.
The truck's name was inspired by the 2013 comedy film "Identity Theft".