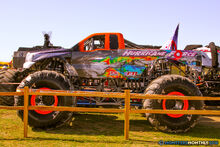 Hurricane Force is a Ford F-150 monster truck driven by Steven Thompson out of Bethesda, Maryland as a part of Natural Disaster Racing, the truck is the teammate to Tim Mente's Storm Damage . The truck debuted in 2010 under the Taurus 3 frame until 2012, when the truck Storm Damage truck got a new frame and the old one was converted to Hurricane Force. For 2014, the chassis was completely rebuilt and the truck continues to run that frame to this day. In 2015, the truck's chassis was temporarily used as a second Northern Nightmare, along with the original, while touring Ontario, Canada.
Trivia
Although presently a Ford, Hurricane Force started out as a Chevrolet, It still uses a 526 Cubic Inch Chevy Big Block as the power plant.
Gallery
Ad blocker interference detected!
Wikia is a free-to-use site that makes money from advertising. We have a modified experience for viewers using ad blockers

Wikia is not accessible if you've made further modifications. Remove the custom ad blocker rule(s) and the page will load as expected.