Hot Wheels is a toy company that currently makes Monster Jam toys since 2000. It is also a current sponsor for Monster Jam. Every year Hot Wheels makes new toys. Hot Wheels will be no longer producing Monster Jam Toys after 2018 since Spin Master signed a contract with Monster Jam to be making the offical Monster Jam toys until 2029.
1:64 Scale Monster Trucks
The 1:64 scale trucks are the most common seen. Most of them are based on real trucks (Such as Grave Digger, Maximum Destruction and Monster Mutt.), but there are some that are not based on real trucks (Such as Great Bite, Donut Patrol and Boneshaker.), and some that are based on real trucks, but with different names (Such as Inferno named Flashfire).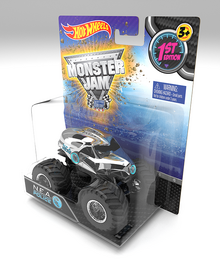 1:43 Scale Monster Trucks (Rev-Tredz)
With these trucks, Hot Wheels has made a revving sound every time the truck rides.
1:24 Scale Monster Trucks
These have a few advantages (Like being easier to autograph when it's unpackaged.). However, they do not work with the Monster Jam playsets.
Playsets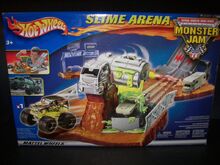 2003 - Slime Arena - Two 1:64 scale trucks race and the one in the right lane gets slime dumped on it. Includes exclusive Grave Digger 20th Anniversary.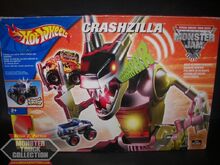 2004 - Crashzilla - The objective is to launch a 1:64 scale truck at the target on a Robosaurus-like monster. If you don't hit it, Crashzilla smashes the truck.