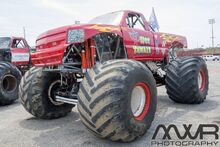 Hot Tamale is a Chevy monster truck that was primarily driven by Isaiah Morales that was the teammate to Equalizer from 2006-2013 when the truck became Red Solo Truck. Hot Tamale was known for wild runs and even doing backflips on occasions.
The truck was retired in 2013 and converted to Red Solo Truck. Three years later, however, it was revived and now runs as an alter ego to Red Solo Truck.
Gallery
Ad blocker interference detected!
Wikia is a free-to-use site that makes money from advertising. We have a modified experience for viewers using ad blockers

Wikia is not accessible if you've made further modifications. Remove the custom ad blocker rule(s) and the page will load as expected.