The Home of Bigfoot (aka Midwest Four Wheel Drive Center) is a destination spot in Pacific, Missouri (just outside of St. Louis) which is the home of Bigfoot 4X4. The outside is a blue building, with Bigfoot 5 and Bigfoot Fastrax along with on many occasions another Bigfoot truck and trailers outside. The inside shop area is a merchandise shop with various Bigfoot toys, DVDs, flags, etc. along with Bigfoot panels and pieces throughout the shop. Then on the farside is the Bigfoot workshop and offices, where the trucks are built and worked on, and the management of Bigfoot is done. Bigfoot usually has two Open House events; one in the fall and one in the spring with car crushes done at the shop.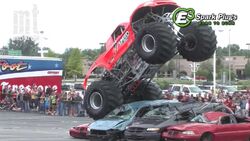 Ad blocker interference detected!
Wikia is a free-to-use site that makes money from advertising. We have a modified experience for viewers using ad blockers

Wikia is not accessible if you've made further modifications. Remove the custom ad blocker rule(s) and the page will load as expected.