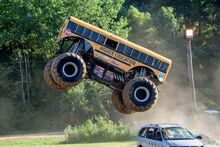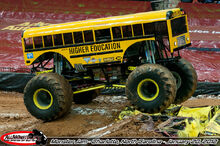 Higher Education is a monster truck driven by Jimmy Tracey that is owned by Michael Vaters (Vaters Motorsports) that debuted on April 9th, 2011 at Olympic Stadium in Montreal, QB with Monster Spectacular. It was originally Killer Bee owned and driven by Tim Bee, but was sold to Michael Vaters in 2010 and was ran as Killer Bee, Weapon 1, and Black Stallion until the Higher Education body and name was ready to rebut on April 9th, 2011.
Trivia
Higher Education is the only monster school bus in the world in competition, and is known internationally from its wild performances in the US, Canada, and Mexico.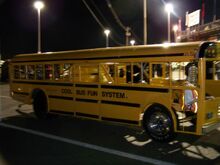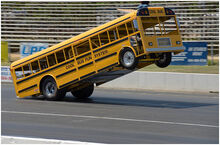 Higher Education was inspired by the Cool Bus wheelstander, owned by Vaters' good friend, Ken Nelson.
For 2017, the chassis will campaign as Monster Mutt Rottweiler in the Monster Jam Triple Threat Series presented by AMSOIL Central Tour.
Gallery
Ad blocker interference detected!
Wikia is a free-to-use site that makes money from advertising. We have a modified experience for viewers using ad blockers

Wikia is not accessible if you've made further modifications. Remove the custom ad blocker rule(s) and the page will load as expected.