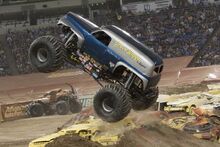 Grave Digger the Legend was a custom Ford Panel monster truck driven by Adam Anderson since 2011. The truck was two of new Digger themed trucks that year, the second being the delayed Son-Uva Digger driven by his brother Ryan. During the 2011 season while Ryan was recovering a second The Legend was made with Tony Farrell driving. Adam won two back to back racing championships in 2013 and 2014. In late 2013 much controversy came about with FELD's redesign of The Legend from the classic silver/blue design to a purple design. However, due to much protest, including from Adam himself, purple legend was cancelled and the truck remained silver and blue. Also, despite not existing at the time, The Legend appeared in Monster Jam:The Game as a playable truck. During the 2016 Monster Jam season kickoff, Adam showed he moved to Team Grave Digger, retiring Grave Digger the Legend. The truck's chassis was converted to Grave Digger 32.
Grave Digger the Legend ran on a black painted chassis rather than a green one, as Grave Digger, at the time of this incarnation, did not feature a green chassis. (although the chassis was repainted after its conversion to Grave Digger 32).
In 2017, the truck will be displayed at the Monster Jam World Finals 18 on a spare chassis.
Monster Jam has stated that Grave Digger The Legend WILL in fact return, however, they are saving it for a specific driver. Most likely, this is referring to Weston Anderson. It will also likely get a new chassis, since the old one is now Grave Digger 32.
Gallery
Ad blocker interference detected!
Wikia is a free-to-use site that makes money from advertising. We have a modified experience for viewers using ad blockers

Wikia is not accessible if you've made further modifications. Remove the custom ad blocker rule(s) and the page will load as expected.