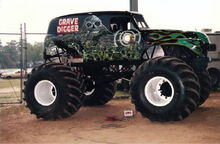 Grave Digger 4 was a Chevy monster truck built in 1990 by Jack Koberna as a West Coast version of Grave Digger. This truck used the older style leaf spring chassis as opposed to the newer tube chassis. The truck has been for over 10 years as the Dodge truck Mr. Big now.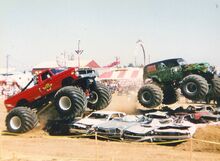 Grave Digger 4 was one of very few Grave Diggers, besides 1 and 2 that did not run on a green painted chassis.
Ad blocker interference detected!
Wikia is a free-to-use site that makes money from advertising. We have a modified experience for viewers using ad blockers

Wikia is not accessible if you've made further modifications. Remove the custom ad blocker rule(s) and the page will load as expected.