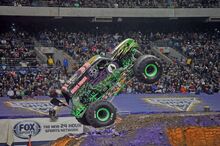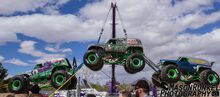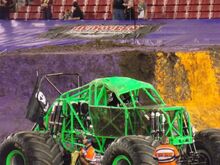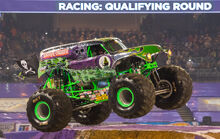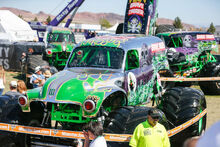 Grave Digger 30 is a Chevy panel van monster truck driven by Brandon Vinson. It is known for being Dennis Anderson's last monster truck driven. The truck debuted in 2014 by Dennis. The truck is a more modernized and more stable version of Grave Digger 20, and its key feature being the green rims that were ran on this Grave Digger . In 2016, it was rebuilt with a new roll cage, and a chrome body was added to the truck. Dennis Anderson drove this truck during the 2016 season and to Monster Jam World Finals 17 while his son, Adam Anderson, took over driving the original black and green Grave Digger (Grave Digger 32). During the international tour, however, the truck competed with the original black and green body, which it went back to running full time in 2017. The chrome body did return in 2017 for the Grave Digger 35th Anniversry celebration and encore, it was by Ryan Anderson.
For 2018 the truck was modified and given to Brandon Vinson.  
2017 Tampa Incident
In 2017 the truck was involved in a wreck that injured Dennis during a show in Tampa. During a backflip attempt the truck shutoff and came straight down on the roof, the rollcage partially collapsed. Dennis had to be helped from the truck by medics. The truck needed major chassis repairs. Carl Van Horn and Jon Zimmer took over the driving duties for the remainder of 1st quarter.