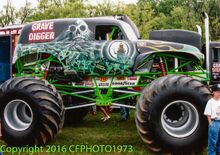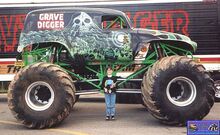 Grave Digger 3 was a Chevy monster truck built by Dennis Anderson and debuted in 1991. This was the first tube chassis Grave Digger and also the first one with coil over shocks as opposed to leaf spring shocks. Drivers Lyle Hancock and Robert Parker have also driven Digger #3. In 2000 the truck was converted to Nitro Machine, which would become Inferno in 2002-2007, and run as Pastrana 199 and Hot Wheels in 2006. It is easily the longest competing chassis of the Grave Digger fleet, being a full 16 years of racing before retirement.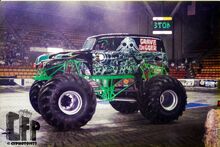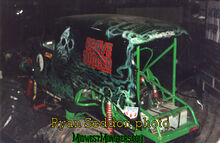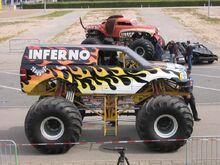 1992 Providence Crash
In 1992, Grave Digger 3 was involved in a serious accident during a race against Taurus at a show in Providence Rhode Island; the truck was being driven that day by driver Lyle Hancock. The truck bounced over a set of crush cars and was thrown forward, then back onto its rear two tires, and then forward again, being flung up the side wall, colliding with a camera and nearly hit spectators in the first few rows of seats.
Amazingly enough, the camera that it collided with was not destroyed, nor was the camera operator, nor any other spectator seriously injured.
Ad blocker interference detected!
Wikia is a free-to-use site that makes money from advertising. We have a modified experience for viewers using ad blockers

Wikia is not accessible if you've made further modifications. Remove the custom ad blocker rule(s) and the page will load as expected.