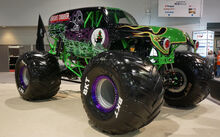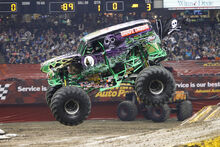 Grave Digger #23 is a Chevy panel van monster truck currently driven by Tyler Menninga. It was driven by Carl Van Horn from 2011 to 2016. What made it unique during the Van Horn years was its coil over/nitrogen shock combination seen on trucks like Grave Digger the Legend. The truck was run for the Fox Sports 1 Series (2016) for one show, Detroit, when Grave Digger 32 was unable to make the call. This truck is known for it's ability to perform spectacular wheelies and moon walks.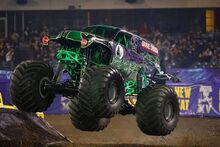 Trivia
​This truck won both racing brackets in Detriot in 2016, interestingly Carl VanHorn was not driving at either show, it was Chad Tingler filling in during the first show and Adam Anderson borrowing the truck the second show.
In 2015 the truck ran as different trucks throughtout the later part of the year. For the World Finals 16 encore the truck was repainted and run as a Zombie. Then was run by Ryan Anderson as Son-Uva Digger in Ocala, Fl and East Rutherford, NJ.
This Grave Digger truck was the one used for the 2015 and 2016 Pacific/ Australia Tour. It was driven by Jon Zimmer and Adam Anderson.
It was also the first Grave Digger truck to perform in Japan, being driven by Jon Zimmer in Osaka.
This truck is currently the oldest Digger competing in main competition
The truck debuted in 2011 in Trenton, NJ.