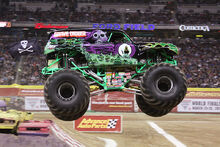 Grave Digger 22 was a Chevy panel van monster truck driven by Charlie Pauken from 2009-2013. The truck is seen as a more modernized version of his previous truck, Grave Digger 15, with a smaller stance and more straight designed shocks. Pauken would pilot the GD #22 chassis as Monster Mutt to win the 2010 Monster Jam World Finals Freestyle Championship. It was previously Batman from 2006-2008. Today, the chassis is used for practice at the Monster Jam University.
Trivia
The truck was previously Batman from 2006-2008, making it one of only two Grave Diggers to be converted from something else (the other being Grave Digger 32).
Ad blocker interference detected!
Wikia is a free-to-use site that makes money from advertising. We have a modified experience for viewers using ad blockers

Wikia is not accessible if you've made further modifications. Remove the custom ad blocker rule(s) and the page will load as expected.