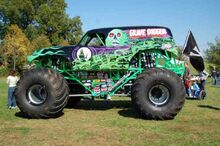 Grave Digger 20 was a Chevy panel van monster truck driven by
Dennis Anderson
. This would be Dennis's longest time in a single Digger, running the truck from 2006-2014. The truck debuted in Minneapolis 2005 with a special green ghost body. #20 was similar to design to #19 but with more tubing and a more stable shock package. Dennis would win two more racing championships with Grave Digger 20, one in 2006 and one in 2010. After some time of running the green ghost, the truck went to the original scheme.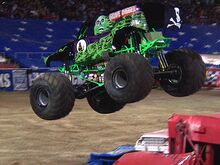 Trivia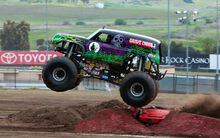 ​From March 2010 through February 2011 Dennis drove this truck to nine straight stadium racing victories. That streak included his 2010 World Racing title and wins at the first ever stadium events in Philadelphia and Cincinnati.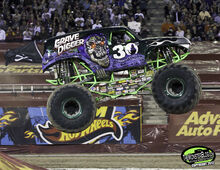 Ad blocker interference detected!
Wikia is a free-to-use site that makes money from advertising. We have a modified experience for viewers using ad blockers

Wikia is not accessible if you've made further modifications. Remove the custom ad blocker rule(s) and the page will load as expected.