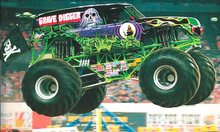 Grave Digger 14 was a Chevy monster truck driven by
Dennis Anderson
and by
Scott Pontbriand
from 2001-2003. The truck was seen as a cross between
Grave Digger 12
and
Grave Digger 7
, and became the framework of several other Grave Diggers. Dennis would pilot the truck until 2003,
Randy Brown
drove the truck in 2004, Carl VanHorn would drive the truck in 2005, and 
Chad Tingler
drove the truck from 2006 to 2010, when the truck was retired after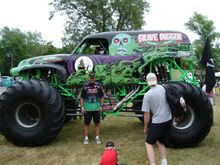 the Philadelphia, Pennsylvania show in June of that year after repeated beating's and exstensive damage to the chassis. It is famous for being Dennis' chassis for the 2002 20th Anniversary season.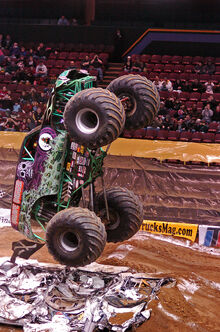 Ad blocker interference detected!
Wikia is a free-to-use site that makes money from advertising. We have a modified experience for viewers using ad blockers

Wikia is not accessible if you've made further modifications. Remove the custom ad blocker rule(s) and the page will load as expected.