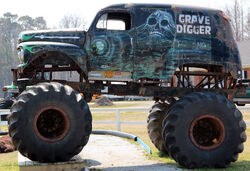 Grave Digger #1 aka "Grandma" is a Ford monster truck driven by Dennis Anderson.
1980s- Red Ford
The first Grave Digger was an old red Ford pick up body with the Grave Digger name painted in yellow and was created in 1982. The name was created from Dennis's saying "I'll take this old truck and dig you a grave". In 2012, for Grave Digger's 30th Anniversary, a rebuild of the red Ford Grave Digger was created.
1980s- Blue and Silver Ford
The second incarnation of Grave Digger came about in 1984 on a Ford panel van with a blue and silver paint scheme with Grave Digger painted on the side. This was the final non Ghost themed Grave Digger and this version was used as the inspiration for the truck Grave Digger the Legend.
1980s- Iconic Ghost Scheme
In 1986 Grave Digger acquired the first iconic ghost scheme which would become the basis for all the rest of the Grave Digger schemes and ran on 66" tires. The truck still is on display, albeit in poor shape, and ran until the build of Grave Digger 2 in 1988.
Grave Digger 1 is one of the very few Grave Diggers, besides 2 and 4, that did not run a green painted chassis.
Gallery
Ad blocker interference detected!
Wikia is a free-to-use site that makes money from advertising. We have a modified experience for viewers using ad blockers

Wikia is not accessible if you've made further modifications. Remove the custom ad blocker rule(s) and the page will load as expected.