FDNY

FDNY in East Rutherford 2012

Owner

FELD Motorsports (Truck), FDNY (Name)

Driver

Tom Meents

Body Style

Escalade

Engine

540ci Merlin

Transmission

Coan 2-Speed

Tires

66" Terraa

Debut

2012

Discontinuation

2012
FDNY was built for the East Rutherford Path of Destruction show in 2012. FDNY was driven by Max-D driver Tom Meents. The truck is a salute to the firefighters of the New York Fire Department. FDNY only appeared at East Rutherford 2012 in an encore with Inferno (driven by Frank Krmel). FDNY would follow Inferno around the track. Eventually, Inferno pulled off the track to let Meents perform a freestyle, which ended in Meents crashing.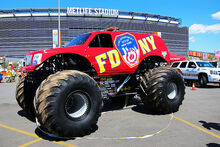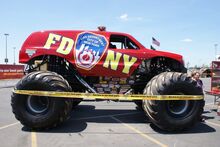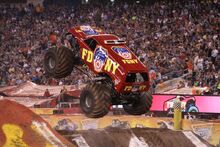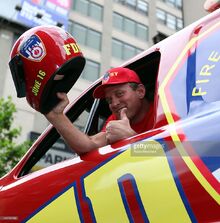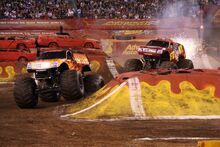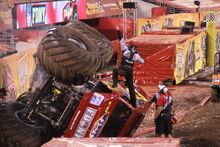 Ad blocker interference detected!
Wikia is a free-to-use site that makes money from advertising. We have a modified experience for viewers using ad blockers

Wikia is not accessible if you've made further modifications. Remove the custom ad blocker rule(s) and the page will load as expected.