Extreme Overkill

Extreme Overkill circa 1997

Owner

Marty Garza, would later be sold to Paul Shafer

Driver

Marty Garza and Kirk Dabney

Body Style

Ford F-350

Engine

572ci Ford Alcohol Injected Motor

Tires

66" Terra

Debut

1994

Discontinuation

Circa 2000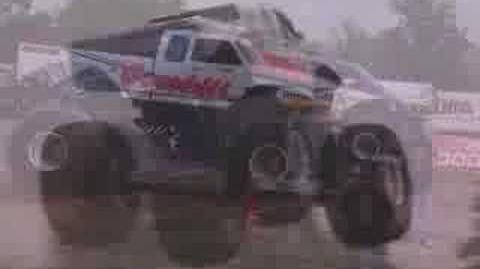 Extreme Overkill debuted in 1994 with driver Kirk Dabney and owner/driver Marty Garza. The truck competed for PACE Motorsports and the PENDA Points Series. In the first PENDA Points race in 1995, Overkill would experience a season-ending crash. In 1996, Overkill would become the USHRA Thunder Nationals Champion. The truck would finish 8th in the PENDA Points Series the same year. The truck is featured in games Monster Truck Madness, Monster Truck Madness 2, and Monster Truck Madness 64. Overkill would go on to be sold to Paul Shafer, and then the truck was sold to a European driver. The Overkill truck would have a few different counter-parts, Maximum Overkill (driven by Kirk Dabney) and Overkill Evolution (driven by Mikey Vaters).