An Escalade

An Escalade circa 2010

Owner

FELD Motorsports

Driver

George Balhan

Body Style

Cadillac Escalade

Engine

540ci Merlin

Transmissin

Coan 2-Speed

Tires

66" Terra

Debut

2005

Discontinuation

2010
An Escalade (or sometimes called "Escalade") was a Cadillac Escalade monster truck that debuted in 2005 with driver George Balhan. Escalade is black, and, unlike other Monster Jam trucks, the truck has no graphics on the side of it and the only truck that feature spinner wheels on it. For a majority of the time An Escalade ran, neon lights were featured on truck. In 2010, An Escalade was discontinued and turned into Mohawk Warrior. Escalade's chassis was also used for 106.7 The Fox in 2009.
History
An Escalade made its debut with driver George Balhan in 2005. An Escalade made it to the World Finals with Balhan in 2005 and 2006. In 2006, An Escalade ran a special white body for World Finals 7. Balhan would appear at the World Finals in 2007, 2008, and 2009. In 2010, An Escalade's final year, George put up a freestyle at World Finals 11 that would give him the score of 31. George had the lead until Charlie Pauken took the lead with a 39. Balhan would tie for second with Damon Bradshaw. This was An Escalade's last performance, as George debuted his new truck, Mohawk Warrior, for the World Finals 11 encores.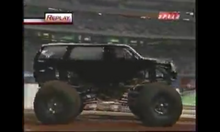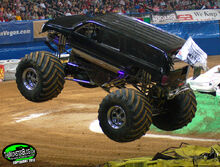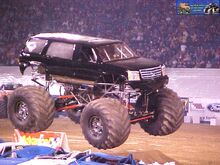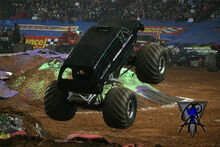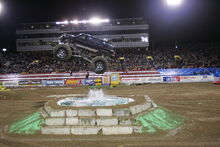 Trivia
There is a possibility An Escalade may have originally been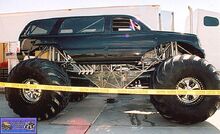 planned to be the Hot Wheels Monster truck, "King Bling" Both share alot of similarities. Both have a black SUV body, chrome wheels, silver chassis. Both came out in 2005, and both have a "punk" character to them. At An Escalade's TV debut in 2005 at Atlanta, it went by the name "Balhan" rather than An Escalade. This means the name wasn't originally meant to be An Escalade. It's most likely that It was going to be called King Bling, but the name and decals were changed at the last moment, similar to how Zombie Hunter was originally going to be a RAM sponsor.
An Escalade also apparently did have a Hot Wheels release in 2006, however, the trucks were recalled before being put on shelves due to the copyright problems.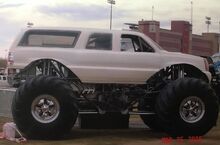 This and
NWo
are the only trucks to have Chrome Wheels.