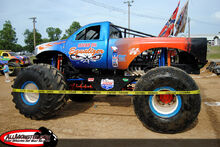 Equalizer is a Chevy Silverado monster truck driven by Mike Hawkins out of Virginia. The name however has been through several iterations dating back to 1988. Since 2002 Hawkins has been the main pilot of Equalizer.
History
1988 - Equalizer debuts under Gary Cook and David Morris.
1989 - David Morris gives Equalizer the TNT Racing Championship.
2002 - David Morris sells the operation to Mike Hawkins.
2006 - Equalizer gets a new chassis change in over 10 years.
2011 - Equalizer changes to the chassis it currently has today.
2013 - Equalizer is run on Hurricane Force for a show.
Ad blocker interference detected!
Wikia is a free-to-use site that makes money from advertising. We have a modified experience for viewers using ad blockers

Wikia is not accessible if you've made further modifications. Remove the custom ad blocker rule(s) and the page will load as expected.