Dragon Slayer

Dragon Slayer circa 2017

Owner

Team KCM

Driver

Kreg Christensen

Body Style

Custom Hummer

Engine

540ci Merlin

Transmission

FTI

Tires

66" Terra

Debut

1995
Dragon Slayer is a monster truck owned by
Kreg Christensen
out of Utah since 1995. In 2002, it ran with the name Dragon, The Slayer. The truck was retired in 2008, but returned in 2017.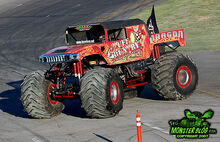 1990s: Origins
Dragon Slayer first came about in 1995 as a Chevy S-10 built by Kreg Christensen and would remain as an S-10 through a chassis change until 2000.
2000s: Hummer and Monsters Of Destruction Days
In 2000 Kreg made Dragon Slayer the only Hummer monster truck in the world, and became well known across the USHRA and through the M.O.D tour which he became a champion. In 2008 Kreg sold Dragon Slayer after he joined 2Xtreme Racing. The truck then, was sold to Barry Parkins and became Western Renegade. The last Dragon Slayer competes today as Buckshot and First Response under Brandon Budd.
2017-Present: Revival
After the truck's retirement, Kreg said in multiple interviews that he had plans on building and bringing Dragon Slayer back until in 2017, during the trucks 25th Anniversary, Team KCM built a brand new Dragon Slayer. The truck remained being a Hummer and being yellow colored with Kreg driving. The truck currently competes in the Toughest Monster Truck Tour with teammates Wicked and Kamikaze.
Trivia
In 2003, for the Hotwheels release of Dragon Slayer featured an interesting feature. Some of the toys read "Kreg Christensen" on the door as the driver, while the other half read "Dj Johnson" (Most Likely BJ Johnson).
The 2017 version of the truck has come with several nicknames by the fans, such as Dragon Slayer 2.0. However, none of them have been confirmed by the team.
Gallery