Dragon Slayer is a monster truck owned by
Kreg Christensen
out of Utah from 1995-2008. In 2002, it ran with the name Dragon, The Slayer. The truck was retired in 2008, but returned in 2017.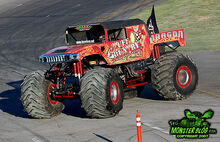 1990s: Origins
Dragon Slayer first came about in 1995 as a Chevy S-10 built by Kreg Christensen and would remain as an S-10 through a chassis change until 2000.
2000s: Hummer and M.O.D Days
In 2000 Kreg made Dragon Slayer the only Hummer monster truck in the world, and became well known across the USHRA and through the M.O.D tour which he became a champion. In 2008 Kreg sold Dragon Slayer after he joined 2Xtreme Racing. The truck then became Western Renegade. The last Dragon Slayer competes today as Buckshot.
Trivia
In 2003, for the Hotwheels release of Dragon Slayer featured an interesting feature. Some of the toys read "Kreg Christensen" on the door as the driver, while the other half read "Dj Johnson" (Most Likely BJ Johnson).
Gallery