Dragon's Breath

Dragon's Breath circa 2011

Owner

FELD Motorsports

Body Style

1953 Corvette ProMod

Engine

540ci Merlin

Transmission

Coan 2-Speed

Tires

66" Terra

Debuted

2011

Discontinuation

2014
Dragon's Breath is a Corvette ProMod monster truck owned by FELD Motorsports and driven by
Scott Liddycoat
. It debuted in 2008 at
Monster Jam World Finals 9
under the name
Spitfire
, however, the truck didn't make its competition debut until 2011.
History
In 2008, Dragon's Breath is introduced as encore performance for World Finals 9, under the name Spitfire with Gary Porter driving.
Later in 2008, FELD recieved a lawsuit for the truck's name making World Finals 9 the only appearance of the truck. The truck appeared in Monster Jam's Video Game Monster Jam: Urban Assault under the name "Spitfire Monster Truck".
In 2010, it is announced that Spitfire would return under the new name Dragon's Breath, being driven by former Nitro Circus crew chief, Becky McDonough.
In 2011, Becky begins her first season with the truck.
In 2012, McDonough moves to El Toro Loco. The truck is once again retired.
In 2014, Scott Liddycoat was supposed to debut his new truck Dragon. However the truck wasn't finished, so Liddycoat drives Dragon's Breath until the truck was ready to debut. He would Dragon's Breath to the Monster Jam World Finals 15 Young Guns Shootout in March. In June of the same year, Dragon officially debuts. This is the last year that Dragon's Breath competed in Monster Jam.
Trivia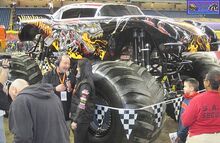 Dragon's Breath was originally named Spitfire and featured the same design, and was available as a playable truck with the name Spitfire in the video game Monster Jam: Urban Assault.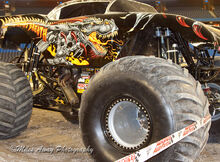 The body is similar to Vette King and Sting.