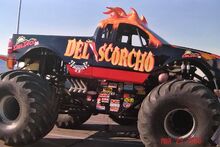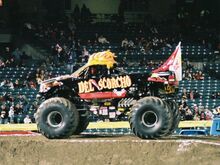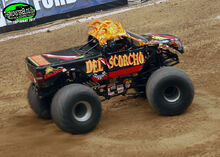 Del Scorcho was a custom Ford monster truck sponsored by Del Taco restaurants that ran during the 2006 season and was driven by Frank Krmel. The truck was notable for the unique flame pattern on the roof of the truck. It also competed in the Monster Jam World Finals 7.
History
2005 - Monster Jam, partnered with Del Taco, creates a competition for fans to design the new Del Taco monster truck, and fire suit. A design is chosen, and goes on to become Del Scorcho. The winning design was by Tim Andren.
2006 - The truck officially debuts, running on west coast events under Frank Krmel. The truck goes on to get its first and only invitation to the Monster Jam World Finals 7.
2007 - The truck is retired late 2006, and does not reappear.
Trivia