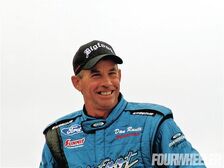 Dan Runte (born May 30, 1964) is a driver of Bigfoot 4X4 from Freeport, Illinois. He has driven Bigfoot since 1990, and is one of the longest running drivers. To many, he was the most famous and successful driver for the team.
History
1989- Dan Runte began driving full time for Bigfoot 4X4
1993- Named MTRA's Driver of the Year
1995- Won his first championship with PENDA driving Power Wheels Bigfoot
1999- Set a distance world record of 202 feet
2001- Won the ProMT championship
2007- Won the MLMT championship
2012- Retook his distance world record with a jump of over 214 feet
2014- Took the Toughest Monster Truck Tour Championship
Ad blocker interference detected!
Wikia is a free-to-use site that makes money from advertising. We have a modified experience for viewers using ad blockers

Wikia is not accessible if you've made further modifications. Remove the custom ad blocker rule(s) and the page will load as expected.