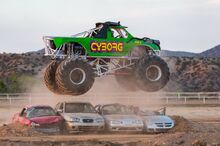 Cyborg is a Ford F-150 (though debuted as a Dodge Ram) monster truck owned and driven by Jack Koberna out of New Mexico.
Trivia
This truck is known as the only 2 Wheel Drive (rear wheel drive) monster truck in the world. This, while a unique factor, was a major disadvantage for the truck, as the truck would often get stuck on obstacles such as bus stacks and van stacks and also wasn't quite as fast as other trucks.
Gallery
Ad blocker interference detected!
Wikia is a free-to-use site that makes money from advertising. We have a modified experience for viewers using ad blockers

Wikia is not accessible if you've made further modifications. Remove the custom ad blocker rule(s) and the page will load as expected.