Cult Energy Activator

Cult Energy Activator in New Orleans 2010

Owner

Sudden Impact Racing

Driver

Sean Duhon

Tires

SIR Racing Tires

Debut

2009

Discontinuation

2010
The Cult Energy Activator, a monster truck sponsored by Cult Energy Drink, debuted in San Antonio, 2009 as the successor to the Traxxas T-Maxx. Cult Energy Activator competed in 2009 and 2010 as part of Louisiana-based Sudden Impact Racing (SIR) and was driven by Sean Duhon. Duhon would later go on to drive Superman in 2012 and Zombie in 2013.
History
In 2009, Cult Energy Activator made its debut as the successor to the Traxxas T-Maxx. Cult Energy Activator was driven by SIR member Sean Duhon. In 2010, Cult Energy Activator put on an amazing freestyle in New Orleans, blowing the left-rear tire. Cult Energy also toured with other SIR truck Ground Pounder and was one of the 10 encore freestyles at World Finals 11.
Triva
The truck's chassis was also used for the Sudden Impact body in Pontiac, MI 2010.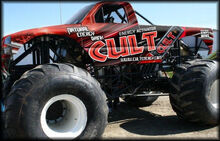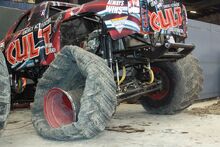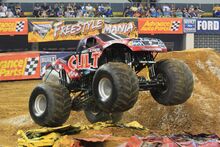 Ad blocker interference detected!
Wikia is a free-to-use site that makes money from advertising. We have a modified experience for viewers using ad blockers

Wikia is not accessible if you've made further modifications. Remove the custom ad blocker rule(s) and the page will load as expected.