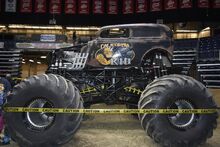 California Kid is a 1930s Ford Sedan monster truck out of Washington as part of the Straight Up Racing team. The truck debuted in 2010 and has had many famous drivers pilot it such as Devin Jones, BJ Johnson, and Donald Epidendio. The truck is based off of the old Mike Welch truck of the same name, and has gone through several scheme changes with its biggest one in 2015.
Gallery
Ad blocker interference detected!
Wikia is a free-to-use site that makes money from advertising. We have a modified experience for viewers using ad blockers

Wikia is not accessible if you've made further modifications. Remove the custom ad blocker rule(s) and the page will load as expected.