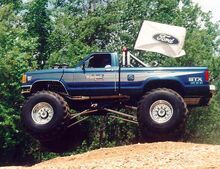 Bigfoot Ranger (or Miss Bigfoot) was a lifted Ford Ranger driven by Marilyn Chandler and debuted in 1981. The truck, similar in design to Bigfoot 1, never ran the traditional 66" tires but instead 48" tires. Bob Chandler's wife Marilyn drove the truck and even on several occasions raced other trucks. The truck was sold in 1993 and is now called Lil' Truck owned by Chandler Lloyd.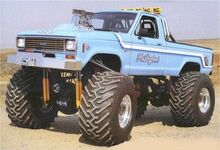 Ad blocker interference detected!
Wikia is a free-to-use site that makes money from advertising. We have a modified experience for viewers using ad blockers

Wikia is not accessible if you've made further modifications. Remove the custom ad blocker rule(s) and the page will load as expected.