Bigfoot Fastrax is a custom Ford Aerostar built by Bigfoot 4X4. The truck is not a traditional monster truck, with it running on tank treads instead of monster tires and also doesn't have the same suspension as similar trucks. Despite this, the tank did compete on several occasions and was on display at Bigfoot 4X4 for a long time. It is unknown what happened to it after Bigfoot 4X4 moved it's headquarters.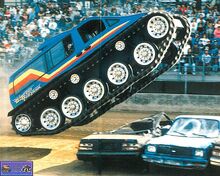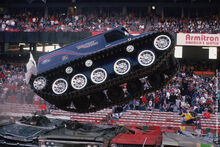 Ad blocker interference detected!
Wikia is a free-to-use site that makes money from advertising. We have a modified experience for viewers using ad blockers

Wikia is not accessible if you've made further modifications. Remove the custom ad blocker rule(s) and the page will load as expected.