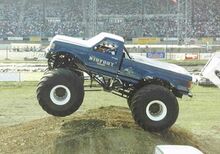 Bigfoot 8 is a Ford monster truck built in 1989 by Bob Chandler and Bigfoot 4X4. The truck is considered the most innovative truck of all time, being the cornerstone for many truck designs to this day. The truck utilized a brand new state of the art CAD designed tube chassis, and also on cantilever shocks which gave the truck much more travel and helped soften the blow on the driver. Due to the truck's significant advantage though, Bigfoot 8 was banned for months on the TNT Championship so John Piant drove Bigfoot 4 save for the Louisville 1990 race when Andy Brass, diver of the banned #8 truck, drove #4. Andy Brass then finished off winning the 1990 championship with Bigfoot 8.
As of today, Bigfoot 8 is a display truck and a part time competition truck in case a truck doesn't make it to an event.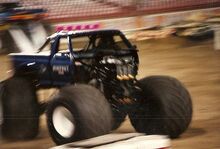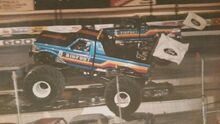 Ad blocker interference detected!
Wikia is a free-to-use site that makes money from advertising. We have a modified experience for viewers using ad blockers

Wikia is not accessible if you've made further modifications. Remove the custom ad blocker rule(s) and the page will load as expected.