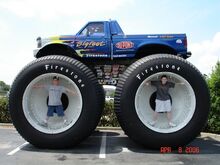 Bigfoot 7 is a Ford monster truck built by Bigfoot 4X4 in 1988 specifically, at the time, for use in the movie "Roadhouse". The truck was the final leaf spring built truck from Bigfoot 4X4 before the iconic
Bigfoot 8
was created in 1989. The truck is currently a display piece on 10 foot tall tires in Florida. The truck is almost identical to
Bigfoot 5
.
The truck was first built in 1988 specifically for the 1989 film "Roadhouse". The scene starring Bigfoot 7 depicts the truck demolishing a car dealership, including four station wagons. This scene was shot in a single take and cost $500,000 to shoot.
Also, although the truck today has the 10 foot tall tires like Bigfoot 5, the truck had regular tires from when it was first built in 1988, and during its "Roadhouse" appearance, all the way to 1995. After its tire change, it became a display piece and sat outside of the Race Rock Cafe in Orlando until it closed down. It was then moved to Fun Spot USA in Kissimmee, Florida, where it currently resides.
The truck was briefly known at one point as Bigfeet; today, the truck is known as BigFun.
Gallery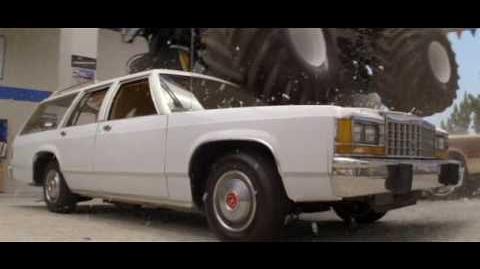 Ad blocker interference detected!
Wikia is a free-to-use site that makes money from advertising. We have a modified experience for viewers using ad blockers

Wikia is not accessible if you've made further modifications. Remove the custom ad blocker rule(s) and the page will load as expected.