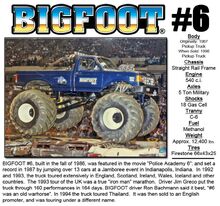 Bigfoot 6 was a Ford monster truck built by Bigfoot 4X4 in 1986. The truck is best known for setting a world record in 1987 with a 70 ft jump while Jim Kramer drove, 4 rollovers and its role in
Police Academy 6
and for driver
Ron Bachmann
and Jim Greco touring across Europe with the truck in the 1990s.Sadly shortly after being sold the truck was confiscated in a salvage yard in Egypt where it has been said that it was parted out throughout the years.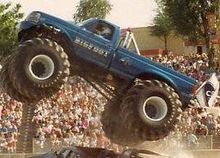 Ad blocker interference detected!
Wikia is a free-to-use site that makes money from advertising. We have a modified experience for viewers using ad blockers

Wikia is not accessible if you've made further modifications. Remove the custom ad blocker rule(s) and the page will load as expected.