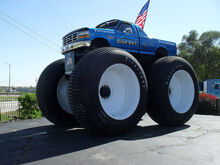 Bigfoot 5 is a Ford monster truck based out of St. Louis, Missouri built in 1986 to be the world's tallest monster truck. The truck, notably, sits on 10 foot tall Tundra tires (in contrast to the the long time 66 inch tall monster truck tire standard), Due to it's unnatural height, this truck has never actually competed in public, but has crushed cars on certain occasions. In addition to height, Bigfoot 5 is also the heaviest truck ever built, at 28,000lbs.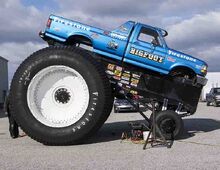 The truck occasionally ran duel tires (as seen in the gallery below), increasing the truck's 28,000lb weight to 38,000lbs, calculating each tire in at 2,000lbs, or exactly 1 ton.
At one point, Bigfoot 5 briefly ran as a ride truck before it was eventually converted back into a regular truck.
The tires came from a scraped military vehicle called the snow train, built in the 1950's.
Today, Bigfoot 5 is on display in front of Bigfoot 4X4. A year after its debut, an identical truck, Bigfoot 7 (later became Bigfeet), was also built.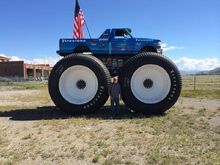 Bigfoot 5 was featured in the 1985 monster truck video titled Battle of the Monster Trucks. In the video, the truck was repeatedly mis-identified as Bigfoot 4.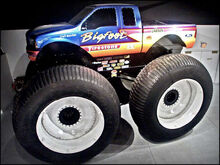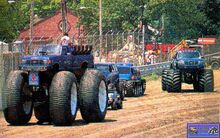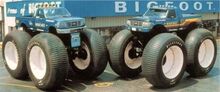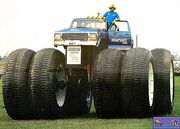 Ad blocker interference detected!
Wikia is a free-to-use site that makes money from advertising. We have a modified experience for viewers using ad blockers

Wikia is not accessible if you've made further modifications. Remove the custom ad blocker rule(s) and the page will load as expected.