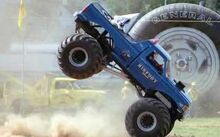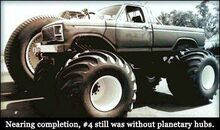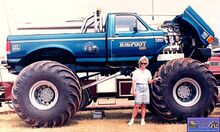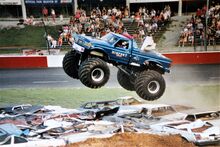 Bigfoot 4 was a Ford monster truck built by Bigfoot 4X4 and completed in 1985. The truck is considered to be the war horse of the Bigfoot family, being the first solely racing truck competing in the early racing events with drivers like Jim Kramer, Rich Hooser,and Andy Brass piloting the truck. Bigfoot 4 was also the first Bigfoot to roll over, done by Jim Kramer in Murrayville Kentucky 1986.
 One of Bigfoot 4's most iconic moments occured in 1990 at Louisville Motor Speedway. Bigfoot 8 was banned from TNT competition, so Andy Brass drove Bigfoot 4 during this race and in the biggest come from behind race beat Carolina Crusher in the semi-final round. Bigfoot 4 was also the first truck to sport the Snake Bite body unveiled in 1991 while Gene Patterson drove as Colt Cobra.
 Bigfoot 4 continued to campaign until 2007 when the truck was bought and became "Massive Machine". The truck has since been sold again and is currently under restoration.