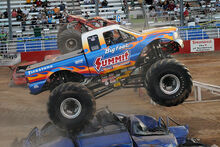 Bigfoot 16 was a monster truck built by Bigfoot 4X4 and made its debut in 2007, the first truck from the Bigfoot shop in 13 years. Dan Runte piloted this truck to the MLMT championship in 2007 and several others. After Larry Swim had a hard crash in 2012 with the truck, it was retired, making 16 one of the shortest ran Bigfoot trucks.
Ad blocker interference detected!
Wikia is a free-to-use site that makes money from advertising. We have a modified experience for viewers using ad blockers

Wikia is not accessible if you've made further modifications. Remove the custom ad blocker rule(s) and the page will load as expected.