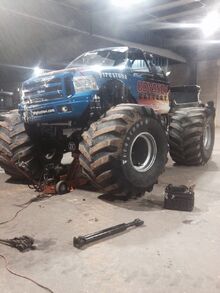 Bigfoot 10 was a Ford monster truck built by Bigfoot 4X4 and completed in 1992. The truck had the now traditional racing stripes that started with Bigfoot 8. With Andy Brass driving, the truck won the 1992 Penda racing series and has had multiple drivers pilot the truck since then.
In 2015, Bigfoot 10 crashed hard during a race against Equalizer at a show in Texas, nearly hitting a track worker; the truck came only about 10 feet from where he was standing. There is speculation that the driver had actually swerved out of the worker's way, causing the wreck. Bigfoot 10 was retired after 23 years of service as the chassis was damaged beyond repair. The truck also had a crash two years prior in 2013 resulting in a lost wheel.
The Big Crash
Gallery
Ad blocker interference detected!
Wikia is a free-to-use site that makes money from advertising. We have a modified experience for viewers using ad blockers

Wikia is not accessible if you've made further modifications. Remove the custom ad blocker rule(s) and the page will load as expected.