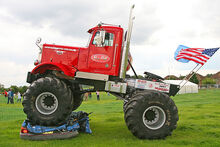 Big Pete is a custom built Peterbilt monster truck out of England since 2004. Owned and driven by Mike Murty, it is the team truck to the former Blown Thunder truck, Grim Reaper
Weighing at 13,000+ pounds, compared to the average 10,000 pound monster truck weight, it is one of the heaviest trucks currently competing.
Gallery
Ad blocker interference detected!
Wikia is a free-to-use site that makes money from advertising. We have a modified experience for viewers using ad blockers

Wikia is not accessible if you've made further modifications. Remove the custom ad blocker rule(s) and the page will load as expected.