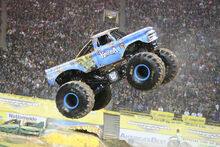 Big Kahuna is a custom 1961 Chevy monster truck driven by Shane England out of Powderly, Texas. The truck debuted in 2013 as another piece of Shane's "Kahuna Motorsports" team which includes an outlaw car. England toured with Flame Motorsports in 2013 and he competed independently in 2015. In August 2015 Shane England released a rendering of a brand new body and scheme for Big Kahuna for 2016. On January 1st in Des Moines, Iowa the new 2016 body debuted on Big Kahuna.
Gallery
Ad blocker interference detected!
Wikia is a free-to-use site that makes money from advertising. We have a modified experience for viewers using ad blockers

Wikia is not accessible if you've made further modifications. Remove the custom ad blocker rule(s) and the page will load as expected.