Batman

Batman circa 2014

Owner

FELD Motorsports (Truck), DC Comics (Name)

Driver

John Seasock

Body Style

Custom

Engine

540ci Merlin

Transmission

Coan 2-Speed

Tires

66" Terra

Debut

2006

Discontinuation

2014
Batman was a monster truck owned by FELD Motorsports and was driven by
John Seasock
. He has taken Batman to two Monster Jam World Finals Racing Championships, one in 2007 and the other in 2008. The truck's original driver was 
Jason Childress
who drove the truck in the 2006 season.
History
John Seasock, former driver of Traxxas T-Maxx and Sudden Impact began driving Batman in 2007, that year he would upset Dennis Anderson in the final round at the World Finals. At the end of the 2010 season, Seasock left Batman and began driving for the Advanced Auto Parts Grinder team.
In 2011, Norm Miller began driving Batman.
In 2013, an all new version of the Batman was created. A new grey chassis was constructed, as well as new body design and shape. The yellow from the original body was completely replace by grey.
In late 2013, John Seasock returned to Batman team while Norm began driving the new truck New Earth Authority Police.
It is now retired due to the Marvel/DC license running out, but the license' return in 2017 indicates a possible comeback.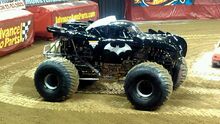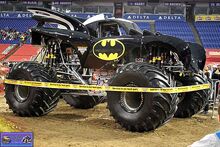 World Finals Appearances
2006 - Jason Childress
2007 - John Seasock (won racing)
2008 - John Seasock (won racing)
2009 - John Seasock
2010 - John Seasock
2011 - Norm Miller
2013 - Norm Miller (racing), Carl Van Horn (freestyle)
Trivia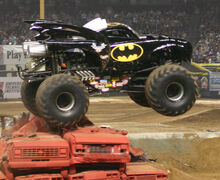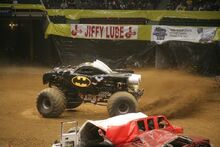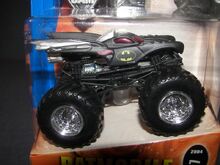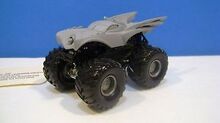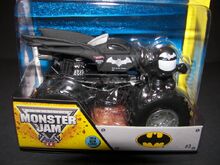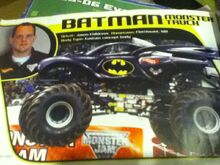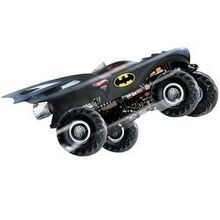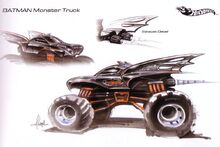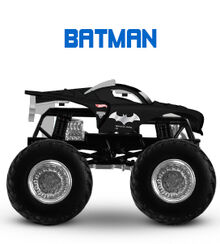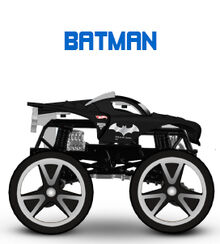 The truck's original chassis that was used from 2006-2008 was converted into
Grave Digger #22
.
Bari Musawwir drove the truck once in Minneapolis in 2012. He ran the original body on the brand new grey chassis.
Seasock is only one of three driver who have won the World Racing championship two years back-to-back in a row with the other two being Adam Anderson (Grave Digger the Legend) and Tom Meents (Goldberg/Maximum Destruction)