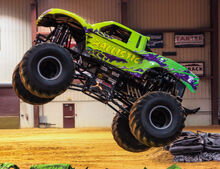 Ballistic is a custom Ford monster truck owned and driven by Mac Plecker out of Williamson, Georgia. Ballistic has been competing across the country for many years now, and is well known for its colorful paint schemes. For a period of 2008-2010 Ballistic on an on and off basis sported a Bear Foot body which was retired for a while after the trophy truck body was added but returned in 2015.
Gallery
Ad blocker interference detected!
Wikia is a free-to-use site that makes money from advertising. We have a modified experience for viewers using ad blockers

Wikia is not accessible if you've made further modifications. Remove the custom ad blocker rule(s) and the page will load as expected.