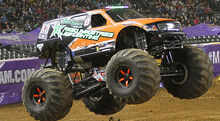 Bad Habit was a monster truck driven by Joe Sylvester out of Youngstown, Ohio from 2006-2014. In that span, he became one of the most successful monster truck drivers, setting records and winning championships. Joe stepped away from monster trucks to focus on CORR racing full time. Bad Habit's chassis from 2009 was sold and was turned into Quad Chaos.  
History
2006- Bad Habit is created from Tim Tesmer's old Carolina Crusher.
2009- A new Bad Habit chassis is built.
2010- A Cadillac clip Bad Habit debuts.
2010- Joe breaks the monster truck jump world record.
2013- Joe wins the Monster Jam Young Guns Shootout and competes in the World Finals.
2013- Joe breaks the jump record once again, running a Dodge body, compared to his usual Escalade.
2013- Joe runs a Ford bodied Bad Habit at Montreal, sponsored by Le Roi Du Camion.
2014- Joe runs a monster truck for the last time on a 2Xtreme chassis.
2014- Joe retires from monster truck racing.
2016- Joe would later return to driving monster trucks by driving Zombie Hunter and other FELD trucks. 
Gallery