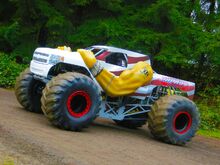 American Bad Ass was a custom Chevy monster truck from Straight Up Racing. The truck debuted in 2015, with American Bad Ass running U.S. dates and Canadian Tough Guy running Canadian dates.
American Bad Ass was temporary renamed to American Muscle due to minor controversy despite the name being inappropriate as it was one of the very few trucks that included profanity in its name. It temporary ran as El Bandito in late 2015.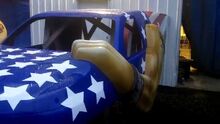 Ad blocker interference detected!
Wikia is a free-to-use site that makes money from advertising. We have a modified experience for viewers using ad blockers

Wikia is not accessible if you've made further modifications. Remove the custom ad blocker rule(s) and the page will load as expected.