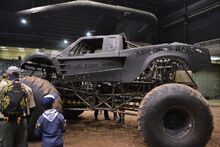 Airborne Ranger is a Chevy Silverado monster truck owned and driven by Joe Cypher out of Reno, Nevada since 1995. The truck is one of a kind in that the steering and throttle/brake are used by hand controls, as driver Joe Cypher, a former airborne ranger himself, was paralyzed from the waist down in a motorcycle accident in 1989. Although Joe's biggest successes came from his days during the TNN Era, he still competes to this day.
Trivia
Each of the chassis has been Nicknamed after a military call.
Chassis 1 was named "Alpha". Chassis 2 was named "Bravo". Chassis 3 was "Charlie". Chassis 4 was named "Delta", and the 5th Chassis will eventually be named "Echo"
Gallery
Ad blocker interference detected!
Wikia is a free-to-use site that makes money from advertising. We have a modified experience for viewers using ad blockers

Wikia is not accessible if you've made further modifications. Remove the custom ad blocker rule(s) and the page will load as expected.